Events and Conferences
PCPLD Network 20th Anniversary Conference
13th June 2018 at Friends House, Euston, London
For details and registration, click on the links below:
PCPLD Network Conference 2018 PROGRAMME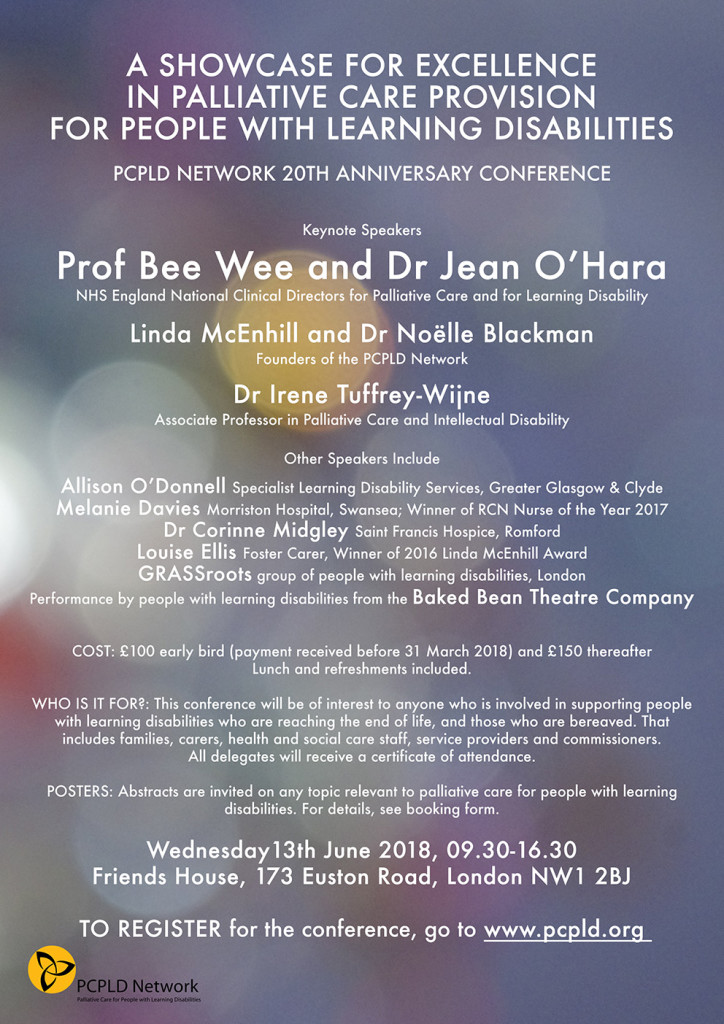 ---
Please let us know if we can promote your learning disability and palliative care event.
Previous PCPLD Network conferences
You may also view some of the presentations on our Slideshare page.
November 2016 (Huddersfield):
Our annual conference was held in Huddersfield on 4th November 2016, in a spectacular football ground setting. It was a hugely inspiring day, with excellent and stimulating talks. Many thanks to all the speakers. Some feedback from conference:
Well organised, friendly and supportive
Overall a really good day
Excellent venue, great location, inspiring
Well organised, a big thank you had a great day
Very informative, interesting and enjoyable, some very superb speakers
Thank you will take a great deal away with me from today
Absolutely excellent
Good networking opportunity, Thank you!!
You can access the presentation slides here.
---
November 2014 (Glasgow): Photographs can be viewed on our Facebook page
November 2013 (Birmingham): Conference presentations can be viewed on our Slideshare page,
November 2012 (Hertfordshire): Palliative care for people with learning disabilities – with a focus on "Transition"
October 2011 (London): Best practice in end of life care planning for people with learning disabilities
May 2010 (Devon): Excellence in end of life care for people with learning disabilities
November 2010 (Rochdale): "People with learning disabilities: Dementia and end of life care"